MS2 Bacteriophage- Low (1 EA= 1.0 mL)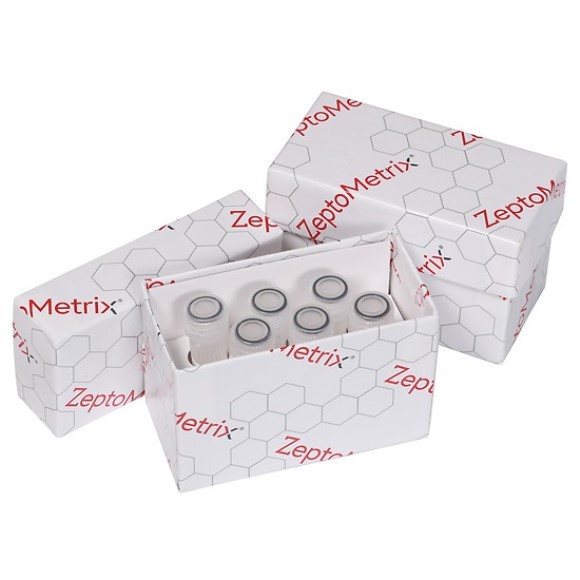 MS2 Bacteriophage- Low (1 EA= 1.0 mL)
PRODUCT DESCRIPTION: 
Each frozen aliquot contains 0.1 or 1 mL of partially purified, live, titered MS2 Bacteriophage (see Table 1). MS2 Bacteriophage is a single stranded RNA virus that infects Escherichia coli. The titer was adjusted to a target titer in plaque forming units/mL (pfu/mL) using a standard plaque-forming unit assay. The MS2 Bacteriophage is supplied in SM buffer and the preparation may contain some E. coli nucleic acids. 
The copy number of the MS2 Bacteriophage genome will vary from preparation to preparation. This variation results from incomplete bacteriophage coat assembly, incorrectly assembled bacteriophage, and/or free floating nucleic acids. 
---
INTENDED USE: 
MS2 Bacteriophage can be used as an internal control in nucleic acid-based amplification assays to monitor reverse-transcription and PCR inhibition. Controls should be run using the same protocols as those used to amplify extracted clinical specimens. 
---
BIOSAFETY: 
MS2 Bacteriophage is a biosafety level 1 microorganism and should be used within the confines of a Biological Safety cabinet. Please consult your institution's regulations regarding the use of this bacteriophage. For a detailed discussion on biological safety see the current edition of Biosafety in Microbiological and Biomedical Laboratories (BMBL), published by the CDC. 
---
PRECAUTIONS: 
Use Universal Precautions, this organism is potentially biohazardous. 
Repetitive freezing and thawing is not recommended (aliquot material if necessary). Titer will be altered by a single freeze-thaw. 
To avoid cross-contamination, use separate pipette tips for all reagents. 
---
RECOMMENDED STORAGE: 
MS2 Bacteriophage should be stored at -20°C or below. 
---
INSTRUCTION FOR USE: 
Extract MS2 Bacteriophage RNA prior to use in downstream assays. 
---
Table 1
  * The titer may vary ± 40% from lot to lot.
---
DO NOT USE IN HUMANS. FOR RESEARCH USE ONLY. NOT FOR USE IN DIAGNOSTIC PROCEDURES. 
These products are intended for research, product development, or manufacturing use only. These products are NOT intended for use in the manufacture or processing of injectable products subject to licensure under section 351 of the Public Health Service Act or for any other product intended for administration to humans.