Varicella Zoster Virus (VZV) Strain: Ellen Lysate - 1mg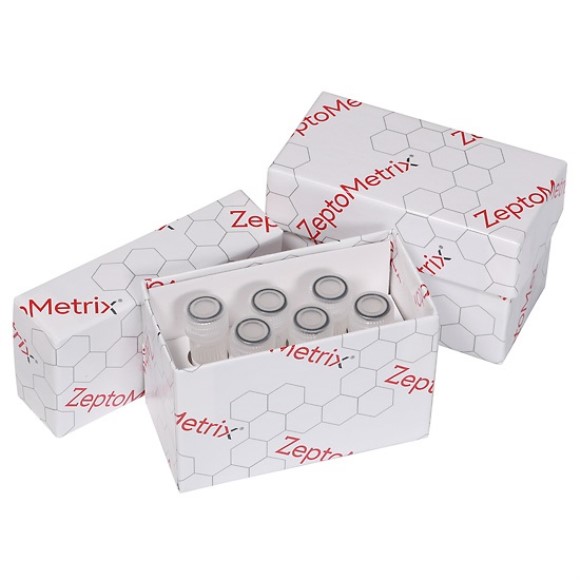 Varicella Zoster Virus (VZV) Strain: Ellen Lysate - 1mg
PRODUCT DESCRIPTION: 
Varicella Zoster Virus (Strain: Ellen) is a Human Herpes Virus (HHV-3) with a diameter of approximately 200 nm. It is enveloped icosahedral virus that contains a nucleocapsid and double-stranded linear DNA. The virus is purified using sucrose density gradient ultracentrifugation, disrupted in the presence of 0.5% Triton X-100 non-ionic detergent/0.6M KCl, and heat inactivated. Each frozen aliquot contains 1 mg of viral lysate per the BCA total protein assay. Viral inactivation is verified by the absence of viral growth in tissue culture-based infectivity assays. 
---
INTENDED USE: 
Viral lysates are intended for research, product development, or further manufacturing use. The performance characteristics of this product should be tested by your laboratory for each intended usage. These products are NOT intended for use in the manufacture or processing of injectable products subject to licensure under section 351 of the Public Health Service Act or for any other product intended for administration to humans. 
---
FOR RESEARCH USE ONLY. NOT FOR USE IN DIAGNOSTIC PROCEDURES. 
---
BIOSAFETY: 
Please consult your institution's regulations regarding the use of this product. For a detailed discussion on biological safety see the current edition of Biosafety in Microbiological and Biomedical Laboratories (BMBL), published by the CDC. 
---
PRECAUTIONS: 
• Use Universal Precautions, this product is potentially biohazardous. 
• Repetitive freezing and thawing is not recommended (aliquot material if necessary). 
• To avoid cross-contamination, use separate pipette tips for all reagents. 
---
RECOMMENDED STORAGE: 
Viral lysates should be stored at -65°C or below.